JOIN US!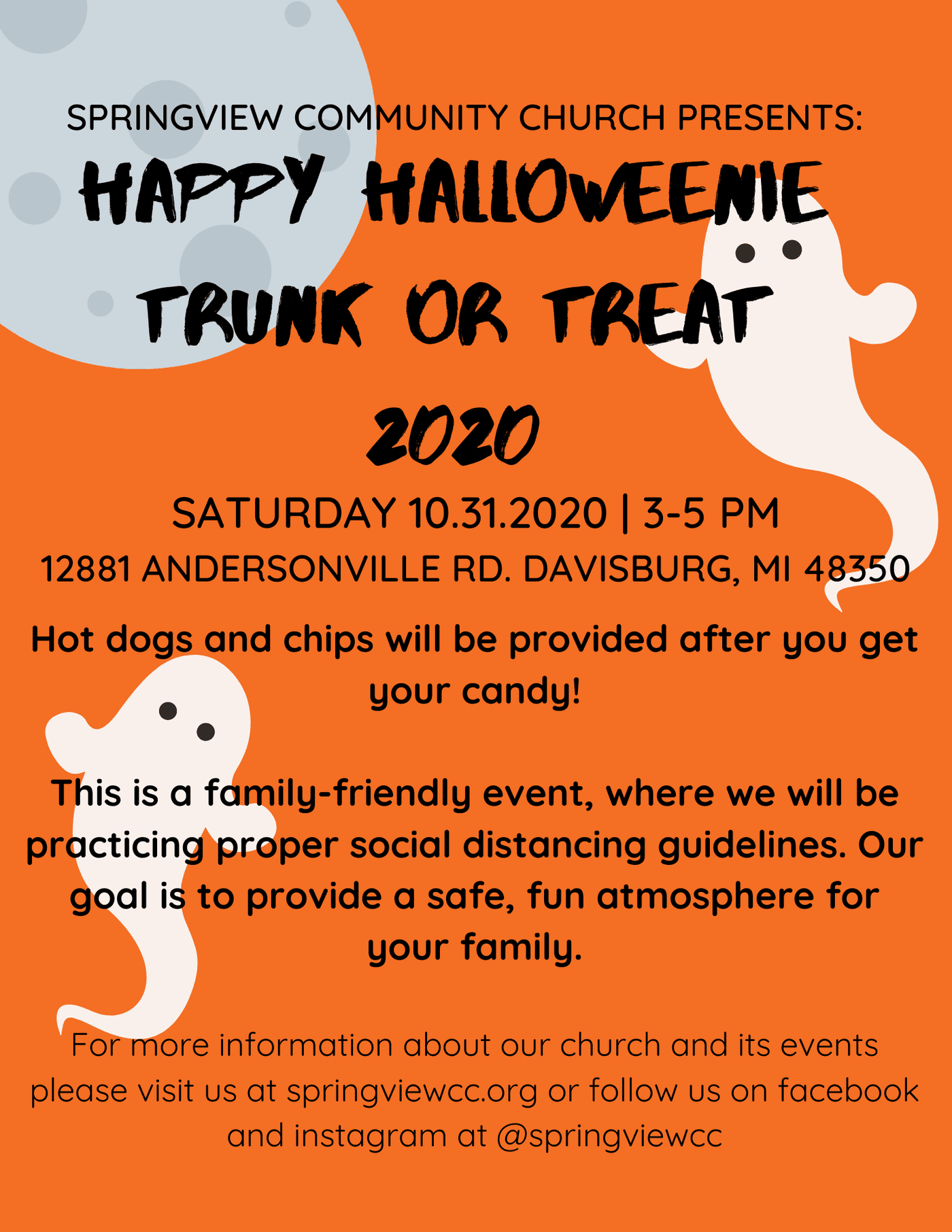 What is "Trunk or Treat?"
In order to provide a safe, but fun, environment for children to trick or treat...we will be transforming our parking lot into a "Trunk or Treat!" Cars and trucks will be set up around our lot with volunteers passing out candy from their fun and wildly decorated trunks! This allows for social distancing while still giving our community a great place to take their kids this year. Families are asked to travel from trunk to trunk as a group. 6' markers will allow people to spread out. Once your family makes a circuit of the trunks stop by our hotdog stand where each person can get a free hotdog (individually wrapped) and bag of chips!
Attn: Church Members-We need Volunteers!
Church family-in order for this to be a success we need volunteers! The obvious need is your vehicle! If you are willing to bring your car/truck/van please use the sign up button below to let us know that WE CAN COUNT ON YOU! The second most important need is CANDY! Please use the sign up button below to let us know that you will be bringing candy! Lastly, we need volunteers for set-up, grilling and wrapping hotdogs, passing out food and cleaning up. Please note, if you volunteer to grill and wrap dogs, you will be required to wear a mask and gloves. We want our community to see that their safety is more important to us than our comfort! You can volunteer for any of these roles by clicking on the signup button below!
I'd like to help but...
Perhaps you can't be there on that date/time, or maybe you need to be very vigilant about your contact with others and just won't be able to attend. Don't despair, we still need you and there are other ways you can help!
You can:
Pray for this event!
Drop off candy or decorations on Tuesdays or Thursdays.
Print out flyers and pass them out to your neighbors!
Like, comment and share our social media posts.
Drive by during the event and honk in support!
I have a question...